Regular price
$99.97 USD
Sale price
$89.99 USD
Unit price
per
Sale
Sold out
Your invitation to a laundry experience that's kinder to the environment, your wallet, and your well-being!
Say goodbye to toxic laundry detergents, stain removers, and fabric softeners, and hello to a budget-friendly, year-long, toxin-free laundry solution!
Our Laundry Bundle is your all-in-one pass to a laundry revolution. It equips you with the essential tools to effortlessly transition to non-toxic, reusable, and environmentally friendly laundry. With this bundle, your laundry will emerge clean, fresh, and residue-free, all without harmful chemicals, load after load.
It's not just about doing laundry; it's about safeguarding your family's well-being.
This bundle is a must-have for all moms and anyone else who values a healthy home environment. Whether you're ultra-sensitive to overpowering scents, prone to skin sensitivities, or have precious little ones in your family, our toxin-free laundry starter bundle is tailor-made for you.
 Here's what's included in this game-changing bundle:
PureMagtrix Laundry Sachet: The secret weapon for pristine, chemical-free clothes.
6 Wool Dryer Balls in a Reusable Mesh Produce Bag: These eco-friendly gems will have your laundry soft, fluffy, and static-free, all while reducing drying time.
1 Handcrafted Stain Stick: Banish tough stains naturally with this stain-fighting wonder.
Experience the Milantrix difference – hypoallergenic, fabric-friendly, non-toxic, and completely fragrance-free. Make the switch today and embrace a safer, cleaner, and more sustainable way to do laundry. Your family's health and your budget will thank you!
Share
View full details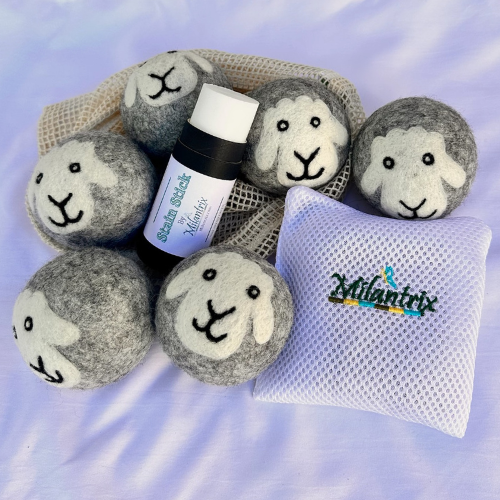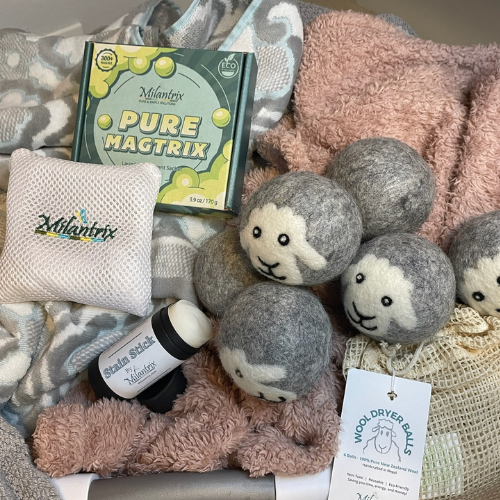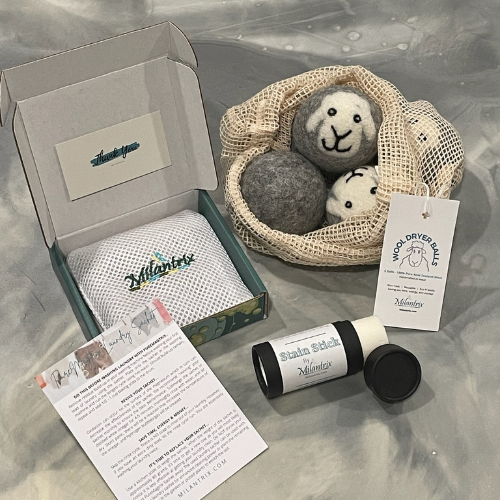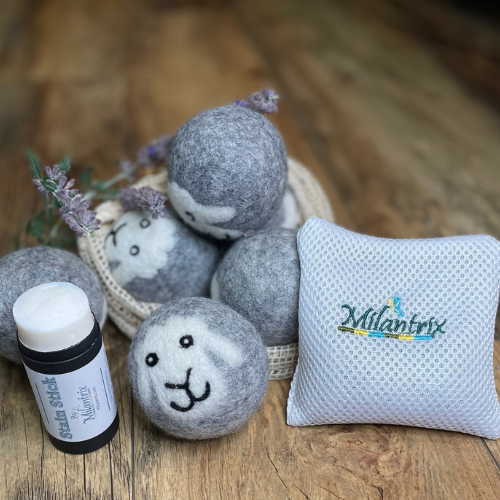 Amazing !
I first discovered Milantix about 5 months ago as a part of my journey to detox my home/myself. Very glad I did. I just reordered another satchet. It works great, gets all my laundry clean without any issues. Really cool that they ship to Hawaii (many companies don't).
So glad I found these products!
I have been slowly trying to switch our household to non toxic products ever since my first baby was born in 2022. Laundry was the most daunting thing for me to switch because I had heard so many bad things about non toxic detergents. But then I had a friend try Milantrix and she RAVED about it so I figured I should give it a shot. I'm about a month in and let me tell you….. I don't know what magic is in it but it works! (Okay it's magnesium but still…. LOVE!) and the cute wool dryer balls. 100% recommend! I prefer scented laundry so I just pop a few drops of essential oil on the dryer balls and my laundry smells fresh even weeks after it has been washed and dried. Thank you! Will be repurchasing and recommending to all of my friends and family.
Worth the investment
I'm still pretty new to using the Milantrix products. I absolutely love the wool dryer balls, not only are they super cute but they work great. My towels have a nice feel to them. I still have yet to try using essential oils with them. I feel good knowing I'm washing my families clothes with something that dosent have harsh chemicals or fragrances. It's also VERY convenient not having to buy detergent or dryer sheets !
Best Eco-friendly Detergent
I've tried various eco-friendly, nontoxic brands of laundry detergent, and none of them compare to Milantrix! I thought I would mind not having a scent, but it makes the clothes smell fresh… even my husband's smelly workout clothes. The stain stick works great, and takes the stains right out of my kid's clothes. It will definitely save me money in the long run too compared to other nontoxic brands. Can't recommend enough!
Mind blown!
I have tried so many safer laundry options and nothing really worked until now!! I'm still shocked that this little sachet gets my boys stinky clothes fully clean!! It's magical! And the dryer balls are adorable!! So glad to have found MILANTRIX!!